Hello dear readers, welcome back to my article page once again. Please press the subscribe button if you have not done that yet and and get more updates and interesting articles to read everyday, as I bring you the trending stories on social media.
A 22 years old young lady has come out to share her real life story online which has left netizens in awe. The name of this young lady has been identified as Joana.
According to Joana, she never knew her father and her mother on the hand did not care about what she did as she was growing up. Joana narrated that life hasn't been fair to her since her childhood. She lacked the love and affection of a father and she received an inadequate amount of a mother's affection from her mother.
When she turned 18 years old, her mom left her to go and fend for herself because she was now of age. "I went out to hustle on my own and I found a man who is interested in but I don't love him." She explained.
She added that, the man is a watchman by profession and she sleeps with him every night for 50 Ghana cedis.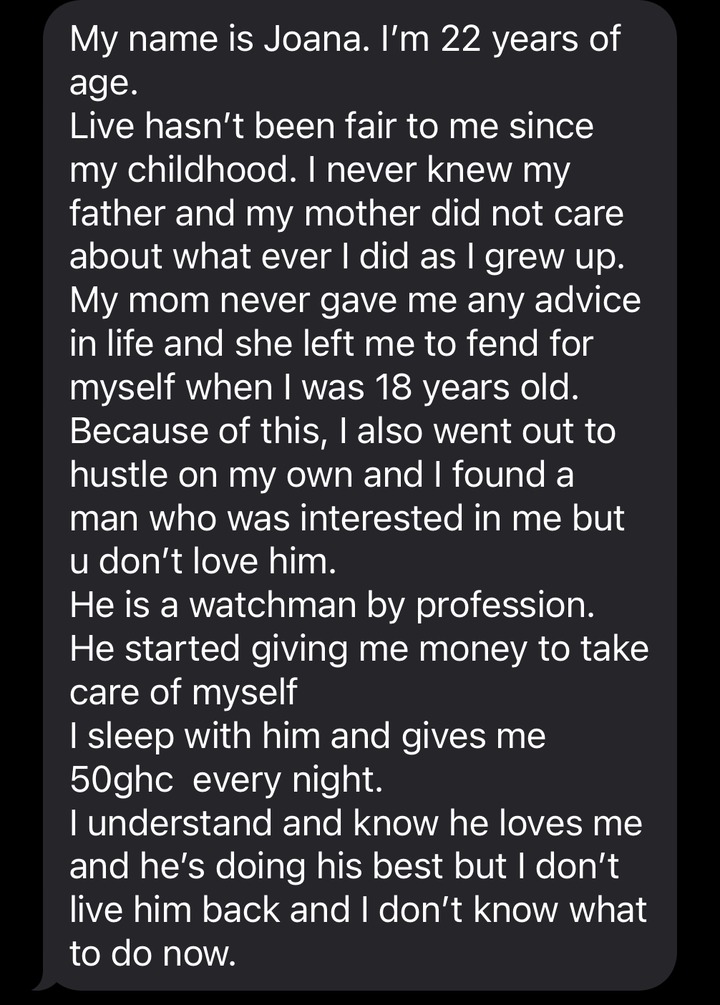 She knows the watchman really loves her but she doesn't love him back and she feels indebted to the man.
What advise will you give to young Joana?
Should she keep having the affair with the man or do something else?
Thanks for reading.
source: Noble_Eugene